Hello lovely people,
It's time for a new challenge at
In The Pink
and our theme this month is...
So, we want to see you use a digital image and as an extra treat this time we are sponsored by the fabulous
All Dressed Up Stamps!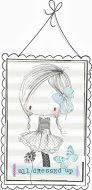 Prize = 2 digi images of the winner's choice
No surprises then that my card features a gorgeous All Dressed Up image :-) I have been delving into my new stash of flowers again as you can see and I think it looks like she is sitting in the garden reading... and well she might with all this lovely sunny weather!
I do enjoy reading especially in the garden in the summer... now I just need to get myself a fabulous pink hat like this little lady!
Copic colours;
Skin: E0000/50/000/51/21 & R30
Hair: E42/43/44
Dress / hat: R81/83/85
Bow: B0000/000/00
Stool: E40/41/42
Book: T0/1/2/3 & YR30/E40
Ground: T0/1/2/3/4
Do pop over to
In The Pink
and check out the gorgeous creations from the rest of the Pink Ladies. They have all been showcasing
All Dressed Up
images so be ready for overload of cuteness!
Thanks for visiting and I really appreciate any comments that you leave,